Roman Khalenkov has been with PortaOne since 2005, first as our only salesperson and then as chief commercial officer. That's almost two decades! Roman created and implemented our strategy for inbound sales in telecom, which we still follow. On a frosty but shiny winter morning, Roman shared his views on (1) what the telecom marketing and sales crowd can expect in the near future, (2) how lockdown and digitalization impacted inbound sales in telecom, and (3) what he sees as the funniest story of his sales career at PortaOne.
In line with our goal to "go as digital as we can," the interview took place over Zoom. We booked our chat with Roman via the HubSpot calendar applet a week in advance.
A Citizen of the World
When we ask if there is one saying he would ever consider tattooing on his body, Roman quotes a Latin proverb: "Ubi bene, ibi patria." Roughly translated: where there is good, that is my country. "Since childhood, my dream was to travel the world and understand different cultures," he says. At the age of 21, that dream started to materialize when Roman got a scholarship to Calvin University in Grand Rapids, Michigan. "The trip from Moscow to Grand Rapids was my first trip abroad and my second airplane flight since the age of four. Back in 1995, it was a life-changing experience. It was also a tremendous culture shock. It shaped my future professional life."
Roman was agnostic, but he studied at a faith-centered university. "My parents were Soviet atheists. Dad worked at a railroad. Each summer, he got free railway tickets for the family, and we would travel to interesting places across the country." The faculty at Calvin University never pressed Roman into adopting any religious attitude. "It was a great lesson in diversity. I learned that people can have a different understanding of life and still get along with each other perfectly."
Faith coexisted well with trade and commerce at Calvin University. "Our finance professor taught us that God created humankind so that it could prosper. And with that, he proceeded with a lecture on call and put stock options."
Our First Sales at PortaOne
Let's fast forward to the 2000s. "Kapitan" (Oleksandr Kapitanenko, president of PortaOne) made the first sale of what was then "DebiTel" to Telinta (led by Alex Ferdman) and ApolloPhone (led by Ed Masaitis). At the time, both companies specialized in international calling cards.
Here, we should pause to offer a note to the "Snap generation": the calling card 🦄business model exploited a tariff 🕳 loophole created by countrywide landline operators (which were often state-owned). Imagine it's 1999. A person living in Sebastopol, California, calls a person living in Sebastopol, Ukraine. She dials the local US number, listens to a voice prompt, and enters the PIN to a calling account connected to her banking card. She then presses the "pound button" (better recognized today as the "hashtag" symbol#). The call goes through to the local landline or cell number in Ukraine.
From there, we "grew" together with Telinta and ApolloPhone. They're still our clients, and we're grateful they believed in us. Roman recalls: "Telinta and ApolloPhone were always our early adopters. In particular, Apollo was the first to use the Oracle Real Application Cluster for PortaSwitch."
What's interesting for this story, however, is exactly how and why we got those first customers.
What Did Our First Customers Have in Common?
PortaOne grew up within the community of post-Soviet IT expats in the United States — a community shared by the founders of both Telinta and ApolloPhone. Both were Russian-speakers who immigrated to the US in the 1990s and were testing themselves in various industries, including IP telephony. That sector was one of the "next big things" in telecom in the early 2000s, in tandem with GSM and CDMA. However, unlike the mobile carrier's business (Vodafone, T-Mobile, Telenor), it required less initial investment. That left more space for startups and small-to-medium enterprises (SMEs).
The lesson here (should you be looking for one): launch your new products among peers. That doesn't necessarily means the same language or same country of origin. But it does help — a lot — to understand the needs and minds of your target audience on a cultural level, beyond the notorious "value proposition." Think of it this way: it can be pretty challenging to launch and sell a successful retirement fund when you're a 24-year-old business graduate.
A Match of Long Term Goals: Our Clients Were Ready to Outsource the Technology Stack
Both Telinta and ApolloPhone had a super-high proficiency with technology. Still, they were looking for an external team to develop their core platforms. We became that team. It was a win-win, just like the old Slavic joke about Rabinovitch, the bank, and roasted sunflower seeds: Alex and Ed were sure that PortaOne had no plans to launch a competing telco. At the same time, PortaOne was sure that Telinta and ApolloPhone would rely exclusively on us for their softswitch and billing systems.
The lesson here? It's essential to perform a stakeholder analysis before launching. What are the long-term goals of your customers? How does your product match those goals? And what's your "plan B" if the market situation changes after you've invested X amount of money in building and launching your product?
How We Build Long-Term Relationships and Turn Customers into Salespeople
Those first two clients were just the start. As of 2022, PortaOne has over 500 customers, plus several hundred more in "shared partitions," such as companies that sublease PortaSwitch to their own customers. So, how did we get there?
The Nuances of Our Market
There are a few unique aspects of inbound sales in telecom that our team had to learn to navigate. Roman describes a few of the bigger challenges he's faced:
The sales process is long. And by long he means upwards from a year to many years.
Our market is conservative. A telecom company's billing platform and softswitch are typically the last candidates for change. That means it can be tough to convince companies to make the shift, no matter how many benefits we offer.
The product is technology-intensive. A salesperson in this sector must be highly proficient in telecommunications, particularly in the technology stack for tier 2 and 3 telcos. This can make it hard for new people: you either have to learn ultrafast, or Roman will have to babysit you (which is definitely not a lasting solution).
Any language other than English can lead to trouble. After several painful experiences, Roman now prefers not to advertise his fluent Spanish. Otherwise, it's a fast sale — and then a perfect nightmare and a lot of "Zoom pantomime" for support staff and PMs who can't understand the language customer speaks.
Good Inbound Sales in Telecom Are Often Quiet
"Working hard" is a misconception. Here's what Roman has noticed about significant sales (those reaching $1M or more within the average PortaSwitch product lifetime): more often than not, they are fast, simple, and don't require lengthy negotiations. But don't let that confuse you into thinking that our sales always show up plain vanilla and with little effort.
Inbound sales in telecom might remind you of 🎣 feeder fishing. First, you have to examine the maps, then the physical terrain. Then, you study the currents and the fish migration patterns, pick the right day (weather, tide, moon phase), and take care of all the other various factors. After that, if you want to attract enough fish, you have "to feed the place up" for five to twelve consecutive hours before you ever start fishing. To a noob who might come along just as you're landing your catch, you look like some lucky bastard getting trout after trout from a river on a sunny day. They see the result, not the work.
There are, however, a couple of even "quieter" forms of inbound sales in telecom at PortaOne.
1. Sales Arriving from a Parent Company After the Acquisition of Our Client
These types of inbound sales arrive when our existing customer gets acquired, and the new owners discover that PortaOne is a good solution. This happened with our client in the Netherlands — after they were already a customer, they became a part of Vodafone. It also happened in Russia with our long-time client MTT, which is now a part of MTS. After a little analysis of the costs and benefits of our product, the new parent usually preserves the PortaSwitch license and even migrates some new business to our platform.
2. Sales Due to Territorial Expansion
These sales arrive from an existing client's expansion into new territories or new types of products. The best recent example is Nova Greece. Nova is a member of the United Group, an agglomerate that unites telcos from various Balkan and Southern European states: Bosnia and Herzegovina, Bulgaria, Croatia, Greece, Montenegro, Serbia, and Slovenia.
The launch of our relationship with United Group is almost a true detective story. One of their top execs used to run a telco back in the 2000s. He had procured a copy of PortaSwitch from elsewhere, without ever having any direct communication with us. One day, he contacted our support team for some help, and he liked how we solved his issue. After that, our relationship became official (and long-term, as it turned out). As of 2022, United Group continues its expansion and plans to acquire more licenses.
Hard Lessons: How to Spot an Inbound Sale (and Which Ones You Should Avoid)
After all these good things, let's rephrase George Orwell: all inbound sales in telecom are equal, but some are maybe a little less equal than others. Those, you should avoid. So, how can you spot a "bad sale" before it's too late? Roman shares his experience:
You made the wrong scope assessment. This is the reason we created a PM Office and implemented new processes to avoid "underestimating." If you don't have the funds for a dedicated "scope team," hire consultants. A significant yet underestimated deal can simply kill your business.
The plan lacks a cohesive vision. We had an interconnect billing project. But when we started examining it more deeply, we discovered too many unnecessary integrations. It turned out that client had a vague understanding of their technology and was simply "placing bets in various directions" (at our expense). So we backed away from the deal and returned the money.
There is a lack of documentation. Always ask for the documentation to back up those excellent slides before it's too late. If they don't have it, that's a clear and important signal. It's also usually easy to discover at an early stage of the negotiations.
There is a language barrier and/or a lack of industry expertise. The client must have a team of engineers proficient in technical (telecom) English. If a client tries to "invent" their own industry terms — that's a bad sign.
Roman's Funniest Sale
Once upon a time, a family-owned chain of Indian restaurants in New York decided to start selling calling cards. They delegated this new "telecom branch" of the business to a young nephew — a student at a local tech university. When our engineer arrived, he delivered the product training right in one of the restaurants… and while he was doing it, restaurant patrons kept walking over and breaking into the conversation with surprise questions about the IT and software industries. At first, the engineer thought the patrons were a part of the client's tech team and did his best to deliver sound answers — but, as it turns out, the client did not have a tech team at all.
Still, the license payment had arrived on time, and we deployed PortaSwitch on the same computer that ran the restaurant's taps and accounting. This story did not last long, however. The nephew graduated and found a job at a US tech company, and his relatives ultimately decided to focus on the restaurant business. This was years before Uber Eats and Glovo, mind you.
Lockdown Sales and the Future of Inbound Sales in Telecom
OK, we promised to deliver some "going digital with inbound sales in telecom" advice in this story. And we always keep our promises! So here it goes.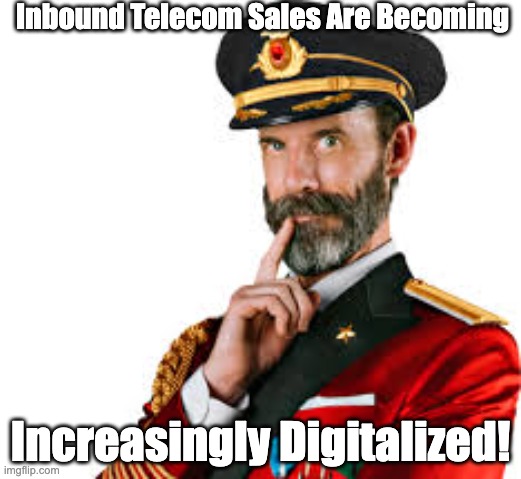 Here's Roman: "Now it's fewer in-person meetings and way less international travel. Calls are better planned, and brief calls now being replaced with instant text or video messages. In turn, text communication has drifted from long emails to a shorter chat-like and pinpointed communication."
The stats support Roman's observation. According to a deck by Steven Van Belleghem, even as far back as 2013, 40% of customers already preferred self-service over human contact when dealing with the companies that serve them. And this number is growing year to year. In 2019, PortaOne migrated to HubSpot from our self-written CRM. Tray.io developed HubSpot integration for our customers. We've also been supporting integration with Salesforce for quite some time. And, once again, there is a plugin from Tray.io for that and for Zoho CRM. On top of that, there's a huge workflows project with Boomi, run by our Serhii Kirik.
And Most Sales Communications Are Now "On Record"
"It focuses and creates discipline," says Roman. "It also simplifies the training of support teams and new salespeople." Indeed, he adds, "a good 30-second video clip with a direct quote from a customer that shows her real-time emotions can explain it better than a dozen sales playbooks."
This story by Sophia Pätz for DMEXCO (Digital Marketing Exposition & Conference) proves that Roman's assessment is straight to the point. "The time is right to move forward digitally," she says in the piece. On top of that, Ms. Pätz notes that follow-up contacts in digital communications are straightforward, "and a subsequent meeting can be arranged for the very next day."
Tenders Have Become Less Formal
In the old days, says Roman, "tenders were lots of paperwork with dubious outcomes." Now, video calls and live discussion have made the process more human. "It's less cold and there's more actionable feedback," he says. "It allows us to understand the clients better and cater to their needs."
The Glorious Exhibitions Era Is Over
Here's Roman again: "Back in the 2000s, over one-third of our new qualified leads arrived from exhibitions. In 2005 we even introduced a permanent 'exhibition bandwagon' — a dedicated team of salespeople and an expedited booth design procedure. In addition, we assembled various prefabricated elements for our booth, depending on the space we had and the region and subject matter of the expo."
Even a couple of years before lockdown, though, it had already started to change. And by the time we took part in MWC Barcelona in 2021, we were trying out a shared booth experience as part of #CloudCity, in addition to our "regular" booth. Cloud City was a showroom for disruptive cloud tech companies, organized by Danielle Royston on the same spot that Ericsson used to occupy for many years. It made a lot of sense to be there last year — in fact, it would have felt strange not to attend, as MWC takes place in a city that's home to part of our team.
Still, now that the pandemic ice has broken, we don't plan to have a physical presence at MWC in 2022 — just a virtual presence at Cloud City.
Can Ecosystem Sales Boost Inbound Sales in Telecom?
At this point, our Zoom interview with Roman takes a detour into ​​Yuval Noah Harari's story. "Give me some time to formulate the idea," Roman asks. And formulate he does: "So, I guess we can compare the current situation with telecom sales to the ancient transition to farming. The [exhibition] hunter-gatherer salesperson's time is over. There is now less space for 'warm' sales with good independent digital analytics and Gartner's quadrants. What we have instead is nascent 'prospect farming.' That drives B2B brands to focus on their existing customer base."
Indeed, structured and well-written product knowledge bases, document repositories, and peer-to-peer communities for sharing how-tos and product experiences are becoming our async salespeople and robotic revenue drivers.
What's the PortaOne Approach to Ecosystem Sales?
For a partial reply, see our previous story on the highlights of our vCC21 event. For an even quicker reply, here it is in two parts:
We will be upselling the existing telco customer base so that PortaOne and our clients and partners can grow together.
We will be grooming and monetizing a broader customer ecosystem.
Add-on Mart is our dedicated product for this, and vCC21 demonstrated these intentions well. We view the future of inbound sales in telecom at PortaOne not as a chase for individual sales, but as an expansion of our entire product ecosystem. That's how we plan to keep reaping the rewards of those 🎣 feeder fishing miracles.