Customers love human conversations with their providers. It could be about anything: life, family, sports, love. In our work calls, we often talk about all of these essential "things" that "ain't business". (Well, assuming we are not in a robocall situation.) These talks become even more friendly and full-hearted when you add in a glass of good wine and an exciting trip to the "other side of the world". And then even more friendly when the company's president plays a DJ set in the middle of a mysterious post-Soviet factory ruin, now turned hand-crafted office building by the loving hands of its tenants. Today's story will explain how a provincial city in Northern Ukraine became the flagship venue for our PortaOne customer conference. (Pre-pandemic, that is.) It will also explain how all of our customers (at least those who've attended the conference) started lovin' it.
Along the way, you'll meet the team that has been creating these beautiful and magnificent events for more than a decade. The upcoming PortaOne All-Digital Customer Conference of 2021 will be our 10th event, and will also mark the 20th anniversary of PortaOne as a business. But first, let's introduce some context.
The Context. A Ukrainian IT Cluster Starts "Gettin' Rich"
By 2007 PortaOne had over 100 employees in our R&D offices in Kyiv and over 150 customers worldwide. Around that time, the Kyiv software outsourcing cluster started to take form, bringing decent urban coffee shops ☕️ (oh, finally!) and financial prosperity to the emerging crowd of software outsourcing industry workers. But this "new prosperity" didn't arrive without a few downsides:
The success created the IT salary bubble and an HR crisis. The Big Five (still the same even after a decade) hired anybody who could code for well-paid entry-level positions. At one point, a new university graduate could earn $30-50k a year "coding for the Valley". In contrast, an MD or PhD who had worked for 20 years as a practicing pediatrician or schoolteacher in a provincial town was happy to earn far less. This status quo also limited the ability for a local software product company (like us) to hire new talent. At least not without drastically increasing our product pricing.
A real estate bubble followed that salary bubble. All of a sudden, all those young and rich hipsters were not willing to undergo their daily routines from a barrack in an abandoned factory a half-hour walk from the terminus subway station. (The usual location of the Ukrainian "high tech" in the 1990s.) This new "working environment paradigm" meant: (a) the business opportunists grabbed all the playgrounds and parks to build their ugly malls and "business centers", and (b) the rent for commercial real estate in Kyiv became comparable to that of London, Tokyo, or New York.
Our Expansion from Kyiv and PortaOne Labs
Here's how we responded. First, we expanded our R&D from Kyiv to Chernihiv. Then, we opened a third R&D location in Sumy. And this was before Chernihiv and Sumy "went mainstream" to form a local IT cluster in the late 2010s. (Which, of course, brought with it that omnipresent satellite — the local real estate bubble.) So both cities followed the same trajectory that Kyiv and Lviv had taken a decade ago.
In 2008 we opened labs at the technical universities in all three Ukrainian "flagship" cities (Kyiv, Chernihiv, and Sumy). There we helped create a "networks and communications" course for students of computer science. It was an extracurricular course for anyone who found the topic interesting. Graduates of the labs can come to PortaOne for an internship, and then the best of the best stay with us in a permanent job.
As of today, these bright young people account for more than 60% of the PortaOne engineering force. In Chernihiv and Sumy, it has become a "fashion" among tech graduates to work for PortaOne.
The Venue. Chernihiv Khimvolokno
We also managed to renovate an abandoned medical clinic in a factory called Khimvolokno (short for "chemical thread", not to be confused with "chemtrails"). The factory was once a glorious Soviet industrial giant, and it was first built in 1959. As was typical for the Soviet Union, Khimvolokno owned a soccer club, a soccer stadium, a swimming pool, a school, and kindergartens. By the mid-1990s, however, the factory was in decline. Most of its infrastructure (that medical clinic included) was in a state of disrepair.
When we settled into the building, we didn't rush to tear it down. Instead, we preserved the Soviet mosaics and the decades-old ficus tree that was located in the stairway atrium. The tree had become so big that we couldn't remove it without damage (to the building or to the tree).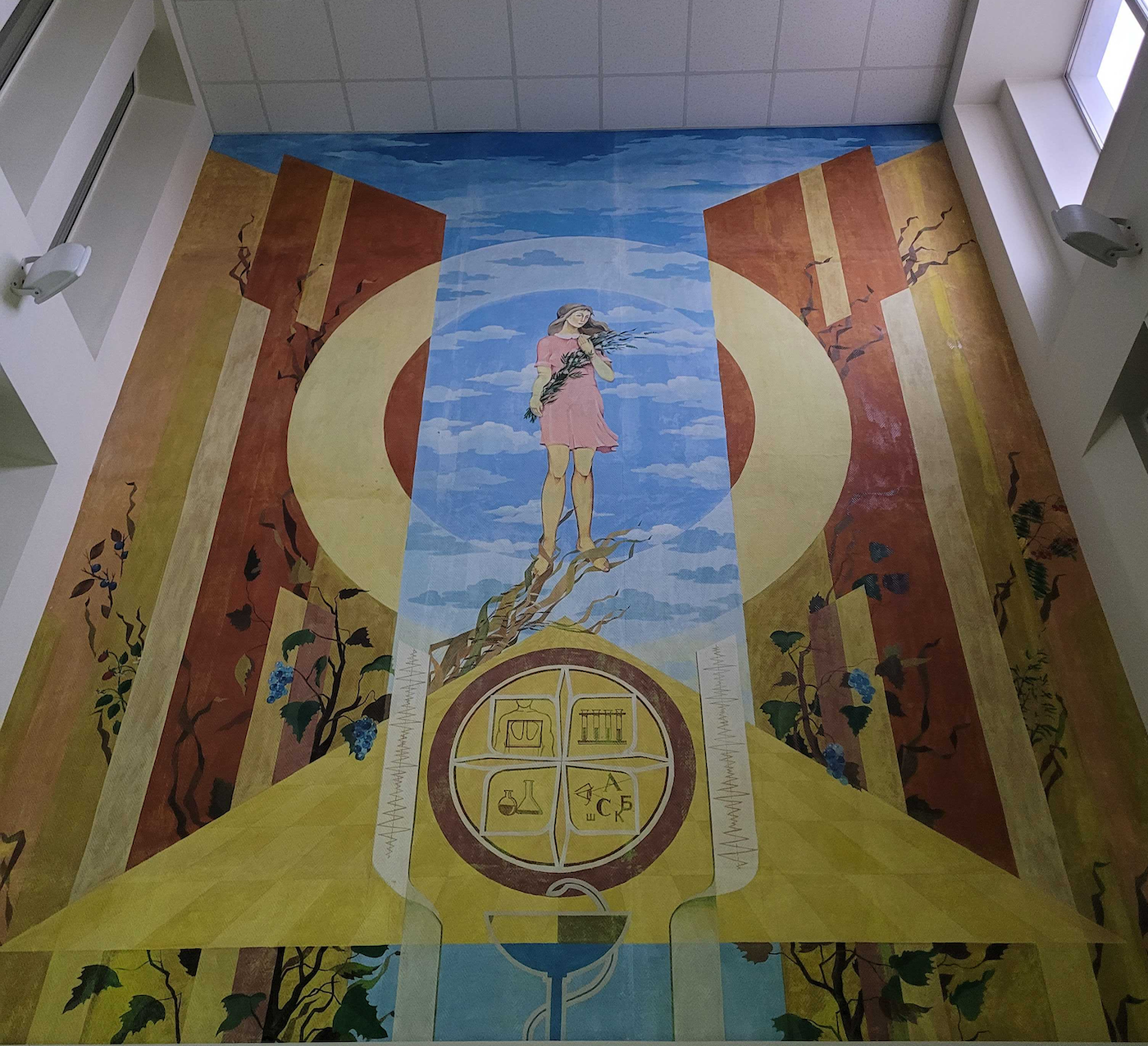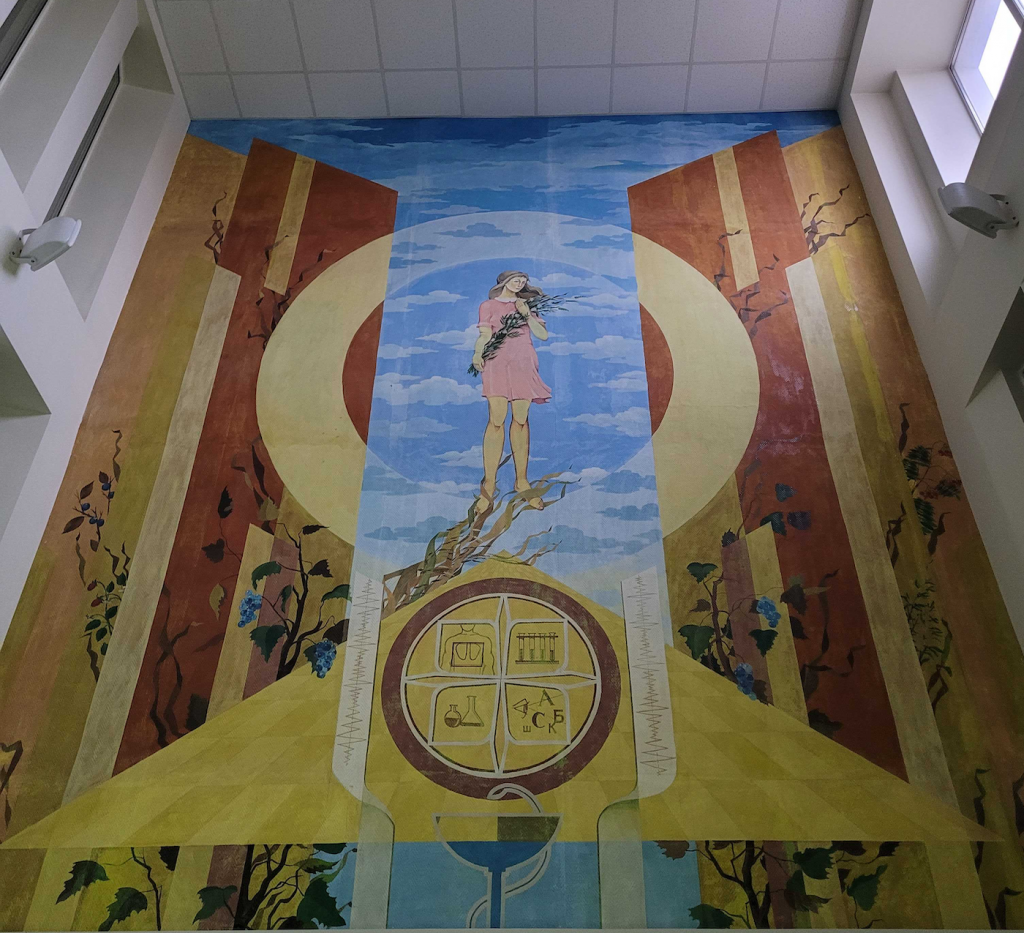 The Event. A New Year's Party That Turned into So Much More
Just before the grand opening in Chernihiv, we had a New Year's party (a.k.a. "the korporativ" — the main event in the lifecycle of any Eastern European office-based business before 2020 and the lockdown) in the Kyiv office. Somebody suggested that we invite our clients, with whom we felt we had developed a personal connection on top of the ordinary business one. The idea proved to be a great success. Our clients very much enjoyed being around our engineers and PMs in a casual setting. Plus, right at that time the Apple WWDC had sold out for the first time. So the idea of conferences in the software community was building momentum.
Is -20°C "Cold Enough"? And What Is the Best Season for the PortaOne Customer Conference?
In December 2007, we organized our next New Year's party / PortaOne customer conference. This time, it was in our new Chernihiv office. Roman Khalenkov was (and still is) our Sales Director at that time. As Roman recalls: "We had no idea how to run a customer conference, but we wanted to have one. So it all ended up with lots of fun, and we even lost a client. I mean literally, not in the sales funnel sense of things. The guy was so happy that he missed our shuttle bus to the airport."
Still, everything ended well. The client even got the most exclusive city tour and airport ride we could afford.
After that incident, the team agreed that "losing clients" on a cold Ukrainian winter night was a bit dangerous, no matter how much fun everyone had. Around that same time, our South African and Nigerian sales started gaining momentum. As it turns out, the people living there were a little hesitant to visit a climate zone that regularly sees temperatures of -20 and lower.
Shifting the PortaOne Customer Conference to Late Spring, and the President-DJ
The next customer conference took place in May 2008. Since then, we have held annual conferences each May, except for 2014. (That, as you may remember, was a challenging year for Ukraine.) That is, we held them up until the 2020 lockdown. This year's PortaOne customer conference will be digital, which is almost an industry standard by now.
We learned a lot: about our own business directly from our customers, and about what it takes to create a customer event that genuinely rocks. Great new features (such as Dual Version) and many new business models (such as iPaaS) all matured from conversations that started at the PortaOne customer conference.
Chernihiv is not a conference hub like San-Francisco, Paris, or Las Vegas. But that just makes the experience even more unforgettable. We can't invite Justin Bieber, but you know what? Our key founder is a DJ (among other things), and our other co-founder runs a jazz club in Ljubljana. (But that's a good starting point for another story.)
Why Is Culture Indeed "More Than an Office Party"?
Anthropologist Grant McCracken argues that "culture is more than an office party". This is true. Especially given the COVID mortality rate being experienced in our part of the world right now. But even very-very successful entrepreneurs and CEOs can't be "all serious" (and boring) 100% of the time. Some great things can arrive "just for fun" in a world where you can "learn (almost) anything for free". And fun is at the very core of culture, right? Even masochists can have fun: by pretending hard not to have it.
We are human beings, not shy of "humanly" things. Like a good glass of wine in the pleasant atmosphere of a building we restored from ruin, surrounded by amiable people — employees, clients, partners — all primarily our friends. Nevertheless, without a bigger purpose, it's all just plain hedonism. Go to Courchevel for that. Our passion lies in making life a tiny bit better by creating softswitch and billing products. These products help our customers achieve their goals better, faster, and with greater attention to nuance. That's what our culture — not merely an "office party" or the "PortaOne customer conference" — is about. Speaking in terms of anthropology, that is.
Always Learn from Your Customers
So why have a conference (and a party, of course) for your customers? Besides the obvious (and notorious) sales and upsells, that is.😉 Our PortaOne founders were fans of customer empathy and customer-driven product development well before it went mainstream. (It went so mainstream as to now be the industry's "new golden rule".) Andriy Zhylenko, our CEO, explains: "The best way to grow business for a product company is to learn from its customers". And the writers for the Harvard Business Review agree.
Since the early 2010s, each PortaOne customer conference has featured a segment with stories from the customers who use PortaSwitch. There is always an abundance of these stories, because our architecture is quite open and invites customer experimentation. The result: many of these stories are super funny and super interesting.
There's a great example that we can hint at for now: our customer in Brazil adopted PortaSwitch to provide agriculture IoT service for cattle birth monitoring. Each time a new calf appears, the system senses the increase in the mother's body temperature. It sends a notification via mobile Internet (the only data connectivity available in rural Brazil), so a mobile veterinary team can come and check the mother and the calf. There's a lot more to this story and we'd love to tell you all of it. But it will have to wait for now.
The PortaOne Customer Conference Goes Digital in 2021! (And Screwing That Lockdown)
We totally miss you all. And we would love to welcome more people to our Chernihiv office. But it looks like this year will be difficult. (Unless that is, our conference qualifies as an 😂 indoor religious event.)
So what's the good news? Well, let's practice what we preach: a hybrid work structure that is made possible by modern telecommunications technology. So: welcome to the 2021 PortaOne All-Digital Customer Conference. We have scheduled this event for November 2021. Stay tuned for our further updates. Meanwhile, please register to participate and suggest the topics you would like us to cover at the keynote, group sessions, breakout rooms, and one-on-ones with our incredible customer support team.